"Zalin, I like the war letters you write," my Paris friend Henry is saying. "But they are décalé, don't really fit in this section. Why don't you create a different page for them on your website?"
"Yes, you're right," I say. "I thought I would be writing just one and it wouldn't matter in the context. So now there are three. I'll leave them here for the moment and then maybe move them later."
Note to the reader: As Henry says, this war stuff doesn't really fit with the other material which is solely about France, and this letter might not be of interest to you, so my advice is to skip it. My style, my language, and my attitude change when I return to the former war zone, and this might be disconcerting to readers who prefer the French Letters. I feel like I am putting on my old war correspondent's clothes. (If only I could fit into them!) This is a report I prepared for circulation on my recent Cambodia trip, addressed to Ann Mills Griffiths, Director of the National League of POW/MIA Families, in Washington, D.C..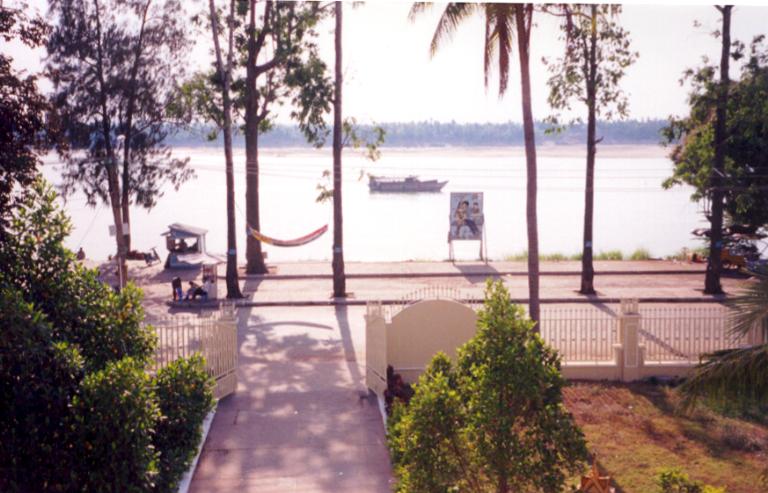 This is the view from the hotel where Sos Kem and I and the Pentagon team stayed during the investigation into the missing journalists in Kratie, Cambodia, which looks like an old French colonial outpost.
Ann is an old friend and colleague on this issue, but in no way responsible for my report.
In fact, I financed the project entirely, except for an unsolicited personal contribution by Murray Gart, the former chief of the Time-Life News Service, who originally asked me to undertake the investigation in 1970.
Several guys familiar with my work have warned me that I have revealed the area where the newsmen are probably buried, and are worried that with the increased tourism in the Kratie area, some adventuresome souls might attempt their own excavations. I would strongly recommend against it. There are still plenty of unrepentant bad guys from the war who now know exactly what we are doing and who probably don't like it. For this reason I have included an excerpt from my coming book that doesn't appear in the report I sent Ann Griffiths. It describes my encounter with two Canadian schoolteachers who were riding bikes from Stung Treng to Phnom Penh. The book is to be called The War and I: A 30-Year Search for Sean Flynn, Dana Stone, and Other Missing Newsmen.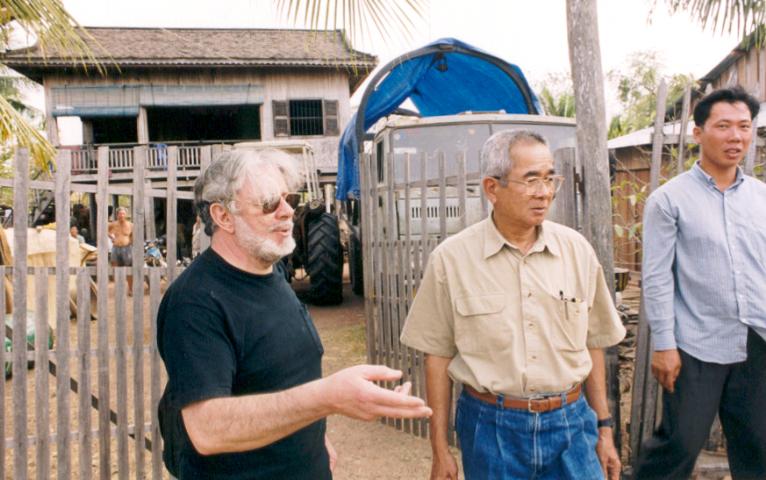 Sos Kem and I spent our days searching for sources we could turn over to the Pentagon team, so they could make their own investigation into the missing journalists. We found them.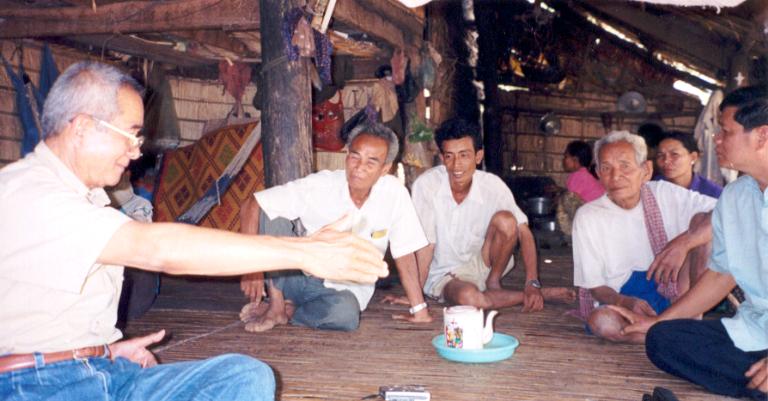 Sos Kem works his magic. In private, he has a warts-and-all take on his fellow native Cambodians. But he treats everybody with courtesy and respect, no matter what their station in life. Which is why he is so good as an interviewer. Note the teapot in the middle. He refused to drink it after I told him I thought that was why we were getting sick--drinking unpurified water in tea. He's not that courteous!
CAMBODIA REPORT-02
This is an account of my trip to Cambodia from February 8 through February 26, 2002, as part of an ongoing investigation into the capture of approximately 17 international journalists--including three American citizens--in 1970. As you know, I have been involved in investigating the disappearance of the newsmen since April 1970, when I was asked to return to S.E. Asia by Time Magazine and CBS. Sean Flynn, on assignment for Time, and Dana Stone, on assignment for CBS, were among the missing. In 1973 I made a second trip to Cambodia at the request of a committee of journalists headed by Walter Cronkite of CBS; and I returned again in January-February 2001 to do further work, along with my Cambodian-American colleague, Sos Kem.
OVERVIEW
From 1970, I believed that a group of the newsmen, approximately 10 or 12, including Sean Flynn and Dana Stone, were moved from their place of capture on Route One north toward the Mekong River town of Kratie. My belief was based not only on my independent investigation but also on reports from the Defense Intelligence Agency, the State Department, and the U.S. 525th Military Intelligence Group in Vietnam. I was further persuaded in 1973, when I picked up an eyewitness report from a Cambodian detained in a Khmer Rouge camp outside Kratie who said he had seen ten newsmen in mid-1972. This information was supported by a 525th MI report based on a North Vietnamese officer who said he had seen two of six newsmen being held in a house in Kratie in 1971. The eyewitness was given and passed a lie-detector test.
During the period 1970-1975, when I was most active in investigating the newsmen's capture, I received the cooperation of the Pentagon and the State Department. I met numerous times with officials who were responsible for the POW/MIA issue, and we freely exchanged information. Walter Cronkite placed into the public record all the information we as journalists had collected in 1976, when he testified before a U.S. congressional subcommittee.
After 1975 I noted a lessening of official interest in the question. I did not find this surprising, since the Pol Pot regime had closed off Cambodia. What I did find surprising, though, was the Defense Intelligence Agency's unilateral decision to declare that the Khmer Rouge had executed Sean Flynn and Dana Stone in 1971, without offering the least credible evidence. I was almost certain that this was not true, and that the DIA was confusing reports about the execution of Humphrey and McKay, two defectors to the Khmer Rouge, with Flynn and Stone. However, this remained the DIA's official position for 15 years or more, until investigators working under the newly formed Joint Task Force-Full Accounting established with reasonable certainty that a mistake had indeed been made by confusing Humphrey and McKay with Flynn and Stone.
With such a prevailing attitude and a lack of official interest in the missing newsmen, I realized that I would have my work cut out for me if I were to persuade the Pentagon to reopen the investigation, after my trip to Cambodia in January-February 2001, when I was able to confirm the physical information on the Khmer Rouge camp provided by my 1973 source and also to establish the location of a possible gravesite.
Nevertheless, with the help of concerned individuals, both within and outside the government, we were able to get the Pentagon investigation reopened. It was scheduled for October 2001. The October investigation was canceled and rescheduled for February 2002.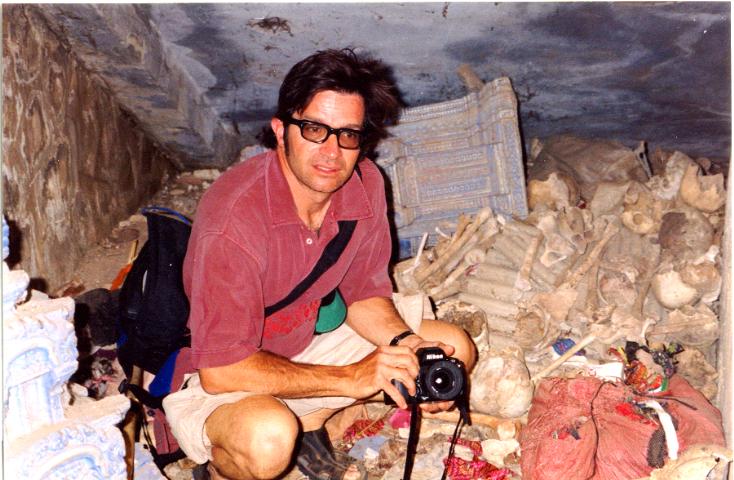 This is Richard Linnett, freelance journalist. If you've got a better candidate for the quintessential New Yorker, let me know. This guy has everything: the look, the accent, the attitude, the humor, the intelligence, and the je ne sais quoi that I really don't want to know. Here he is sitting in a Buddhist wat next to our hotel, in a storeroom that contains the bones of victims of the Cambodian genocide. He asked me to pose with a skull, said it would make a wonderful photo. What I told him should not have been overheard by anyone but a sailor. Despite a rocky start, we wound up having a lot of fun together.
RESULTS
February 9, 2002 - Saturday - We have breakfast at the Intercontinental Hotel with General Pol Saroeun, Gen. Saphin, Sieng Lapress of the Foreign Ministry, and Col. Soyath of the Cambodian MIA office. I have asked Sos Kem to set up this breakfast as a sort of courtesy call on the Cambodian officials before we get started. Gen. Saroeun tells Col. Soyath to phone the police commissioner in Kratie and order him to meet us and act as our guide and facilitator.
February 11-Monday - Sos Kem and I arrive by water taxi in Kratie. We immediately begin to try to develop leads that might confirm and expand the information we collected the year before.
February 12-Tuesday- The Kratie police commissioner picks us up after breakfast. We return to the village Kapo, where we spent time last year. The villagers greet us as though it had been only yesterday. It is polite to drink the tea they offer. But I tell Sos Kem I have figured out why we got sick last year: the Cambodians don't bring their tea to a boil. I pretend to drink my cup but he doesn't touch his.
February 13-Wednesday-Richard Linnett, a journalist who arrived in Kratie with us, tells me that Marine Col. Neil Fox, the JTF deputy commander, and Air Force LTC Mike Dembroski, the Cambodia detachment commander, are at our hotel and would like to meet me. They apparently are checking out the hotel for the arrival of the JTF team. We go for soft drinks at a nearby restaurant. Fox explains that the JTF team will run an investigation and if a determination is made that the matter of the missing newsmen should be pursued, perhaps a test dig will be made. He emphasizes that this is a test dig and not an excavation. He says, "Zalin, we are all on the same team. We are all working together." After our drink, they chopper back to Phnom Penh.
February 14-Thursday - Sos Kem and I begin to develop important information from several sources. One is a Cambodian restaurant owner who served as a liaison with the Vietnamese during the war and who can lead us to other sources.
INSERT FROM BOOK
Richard meets two Canadian schoolteachers, attractive, especially the blonde, both thirty. They teach English in Taiwan. He invites them for a drink at the Riverview. I stop by as I return from sending an e-mail at an NGO that has the only Internet connection in Kratie. The two women have flown to Cambodia with their bicycles, gone north above Kratie by boat to Strung Treng, and now have begun to pedal south toward Phnom Penh. It sounds like a great and unusual adventure, and they are obviously having fun.
"Look," I say, "I don't want to spoil your trip, but I'd like to give you a little advice. I know that women like privacy when they go pi-pi. But don't step off the road to do this. Especially don't do it when no farmers are around and nobody is working the fields."
I remember what Adrian told me. He is a retired Dutch army colonel who runs a program to collect and destroy weapons in Cambodia. They have collected 50 thousand so far. "Only three million to go," Adrian says wryly.
"I tell them," Adrian says, talking about the guys who work with him. "'Piss on the road.' But they don't listen. They step off into the bushes. And bang! They've just lost a leg or their life."
"Cambodia is one of the most heavily mined countries in the world," I tell the two schoolteachers. "The UN-sponsored Belgian Army de-mining team says that the country won't be free of mines for 80 years, at the rate they're going. Remember, nobody wakes up in the morning and says, 'Well, I think I'll go step on a landmine today.' But look around you."
Instead, they look at me--like I'm crazy. Who is this guy?
"Oh, don't mind Zalin," Richard says. "He's an old dude, a little conservative now."
"Yes, I agree," I say. "But I spent few years in the Vietnam War, and I'm still standing. A lot of that was luck. But something else was involved, too."
We drop the subject and begin to talk about traveling. I tell them about my yearlong drive overland in a VW camper, first from Singapore through Malaysia and Thailand to Laos, then back to Singapore, ship to Sri Lanka, and then India, Nepal, Kashmir, and a push on to Paris. Susan and I were thrown into a horrific cholera quarantine camp for two weeks (despite our valid shots), after we crossed the Afghan border into Iran, one of the worst experiences of my life and especially for Susan, who had to face the leering Iranian secret police.
The teachers begin to look at me in a new light, and question me about the trip. Travelers develop a trust for each other. If you want to know what to do, where to stay, how to get by the cheapest way, you talk to another traveler who has been there. I can see them thinking about what I said earlier. Some of their effervescence has disappeared.
Maybe I have spoiled their bike trip. Maybe I have saved their lives. Maybe both. Who knows?
Later Sos Kem says: "Those girls are really courageous, aren't they?"
"No," I say. "They are really adventuresome. My definition of courage is understanding fully the risks--and then taking them, if you believe it necessary or worth the possible consequences. They don't understand the risks, it's all abstract to them. If you see somebody get their legs and arms blown off, it changes your whole attitude, sort of concentrates your mind."
ENDS BOOK INSERT
| | |
| --- | --- |
| Col. Neil Fox, (white shirt above), deputy commander of the JTF, and Major David Combs (to Fox's right), beginning a "test dig" at a reported gravesite of the missing journalists. Fox was later quoted in a news story as saying they had made an "extensive" dig and no further action was warranted. On the right you can see what they did. A couple of feet to the left of the trench could have been the burial site of 50 bodies for all they knew. | |
February 15-Friday - The advance party for the JTF team arrives by Russian-made transport helicopter, loaded with supplies and equipment. They are surprised to find Richard Linnett waiting for them, snapping photos. One of the team members says, jokingly, "Are you the infamous journalist we've been hearing about, the pushy guy who is pushing for this operation?" Linnett tells them that he is a journalist but probably not the "infamous" journalist they are referring to. The advance party brings a couple of truckloads of supplies--including their microwave oven, two-burner stove, bottled water, lockers filled with food, equipment for the operation--and sets up in the hallway of the Sante Pheap (Peace) Hotel, which is on the main street overlooking the Mekong.
February 16-Saturday - The main party arrives by helicopter around 11 a.m. The team commander and the investigation team ask to meet with me. We set up in a circle outside the hotel on the red folding chairs they have brought. The investigation team says they are going "to start from scratch" on this investigation. They would like to ask me about my background and would like for me to tell them how I can prove the newsmen were moved to the Kratie area.
I notice that one of them holds a notebook containing files I have already provided the JTF and also a copy of an article that appears on my website which goes into detail about my background. Still, I try to cooperate fully, explaining that I did my military service as an Army Intelligence Officer, that I was, for a time before the buildup in 1965, head of army intelligence operations in I Corps; that after my discharge I became a journalist in Vietnam for Time and later The New Republic, and spent a total of five years in the war.
I am surprised that they say they are going "to start from scratch" on this investigation. How can they start from scratch after 32 years have elapsed? I try to point out in a non-contentious way that my analysis of where the journalists were held is not simply based on the information I have collected, but also on the information that their own organization has collected--that in fact I have with me an interview the DIA Stony Beach team did in 1998 with a Khmer Rouge eyewitness to the newsmen's capture, which follows in near perfect detail the eyewitness reports I wrote in 1970. They want to know where they can find my reports. I tell them that Walter Cronkite made these reports part of the public record in 1976--which comes as news to them.
I offer to turn over all the sources Sos Kem and I developed in Kratie last year and the ones we have developed so far this week. I emphasize that I believe this is their investigation, not mine, and I am phasing myself out. In fact, Sos Kem is leaving the next day, Sunday, for Phnom Penh. I also offer to show them the possible gravesite area and introduce them to the sources Saturday afternoon, which I do.
February 17-Sunday - The Stony Beach investigators begin to follow-up and re-interview the leads Sos Kem and I have developed.
Some people, when they hear "intelligence," or "CIA," or "DIA" mentioned, get the impression that esoteric techniques are being put into play, something that ordinary people cannot understand or do. But in this case, the Stony Beach team is doing only what tens of thousands of civilian women and men do every day in jobs where normal interviewing techniques are used, whether it involves job interviews, college admission interviews, bank or credit interviews, or interviews conducted by journalists. The point of this interview is to elicit information quickly by using a non-aggressive approach to establish rapport and to put the interview subject at ease. In this case, the only special technique needed is a cultural sensitivity to Asians in general and to Cambodians in particular. That is why I have depended upon the light-handed approach used by Sos Kem and have tried to keep myself in the background.
Now I am hearing from our sources that they find the Stony Beach team intimidating. Four of the members speak Khmer to varying degrees. According to my sources, none of them speaks it well enough to be operating without a native Cambodian speaker. These are farm folk out here and it is even difficult sometimes for Sos Kem to understand them. I realize I've got to have a translator. Sos Kem left this morning. Richard Linnett spots a cherubic-faced nineteen year-old kid who speaks English fairly well and, as we learn later, is serving as a part-time pimp for some of the JTF team. His name is Poun, and I think he'll do okay.
One of our most interesting sources of last year was a rice farmer named Ban Poev. What he said, and what I wrote, is that he saw around ten bodies of persons he believes were kept at the Khmer Rouge camp, about 300 meters away, where I believe the newsmen were held. Ban Poev said to Sos Kem and me that he was told by two Khmer Rouge that these were "intellectuals, important people from Phnom Penh." This was, of course, a key point, and Sos Kem went over it a number of times with Ban Poev, and we came away convinced this is what he had heard and seen.
Now I hear that Ban Poev, under Stony Beach grilling, has backed off from his "intellectuals, important people from Phnom Penh" statement and denied that he ever said it. I'm not surprised. I'm more surprised that he hasn't denied that he even talked to us last year, considering the techniques the DIA team is using. Another source, Ry, a low-level security cadre, whom Sos Kem and I believe has lied to us and knows much more than he is telling, is completely avoiding Stony Beach team.
Interestingly enough, the Stony Beach team tells me they also believe Ban Poev is truthfully relating what he saw, and say they like him.
I hear that Col. Fox has examined the area from the air and concluded that the depressions Ban Poev told us was the possible gravesite are B-52 craters turned into buffalo wallows. As Fox later says, this doesn't mean someone isn't buried there, since it would actually be less work to bury someone in a hole already dug.
Tom Munroe (left) and Joe Fraley of the U.S. Defense Intelligence Agency.

We had a "full and frank exchange of views," as the diplomats say, one evening at the Riverview Restaurant in Kratie, on the modus operandi of the DIA--just male posturing, really.
February 18-Monday - I am working in my room with a computer I have rented from "Save the Children," an NGO. I have the largest room in the hotel where the JTF is staying. When I arrived, I was put into a smaller room but Sos Kem spotted this room and I told the hotel manager that I wanted it. It was $5 more, $20 as opposed to $15. The manager, a tall, young sensitive-looking Cambodian, says, "I am sorry, Mr. Grant. The pilot of the JTF has reserved this room. I say, "Fuck the pilot. He won't be here until the end of the week and I'm ready to rent it now." The manager says, "I see your point, Mr. Grant."
I hear a knock on the door around eight a.m. I wrap a sarong around me and answer. It is Col. Fox. He peers into my room, clearly surprised by its size. "A change of plans," he says. We are going to do a test dig on your site. Do you want to come along?" "I certainly do," I say. "But I didn't arrange for a car today, so I don't have transportation." "Maybe you can come with us," Fox says.
In a few minutes Col. Fox returns. He says, "We're leaving now. You can go with us." I have to close down the computer. I leave quickly, without hat or bottle of water. The van awaiting us is empty. It is only Fox and I. When we are underway, he gives me another little homily on how they are doing the best they can, how we are all on the same team.
I like Neil Fox. Not "like" in the real terms of like, because I don't really know him. Nor do I think he really "likes" me. But Richard Linnett and I agree that he is acting like a professional, in trying to handle two potential loose cannons; he is doing his best. He doesn't look like a Chesty Puller Marine. He is of medium height, not fat, glasses, low-keyed, more like an understanding schoolteacher who cheerfully expects a certain number of his students to flunk, perhaps us among them.
I tell Neil Fox that I am dismayed by the Stony Beach attitude that they are going "to start over from scratch." I say that these reports are already on record. Why don't they have them? I say, "You guys are intimidating the Cambodians. You pull up in your rented vans and jump out like a SWAT team. You all look military with your short haircuts and look-alike clothes." Fox doesn't agree--or disagree. He says something to the effect that he sees my point. He is not going to be drawn into an argument.
I learn that Richard Linnett the journalist has been taken by helicopter to another site where a search is underway for military remains. Linnett is in the hands of LTC Dembroski, while Fox is handling me. Good thinking: Kill two birds with one stone--rather, one day.
The test dig involves two sites, chosen on the basis of what Ban Poev has said. Sergeant First Class Greg Parmele, the assistant team leader, explains the reasoning behind their choice. I barely listen. I know this is the best I am going to get from them--take it or leave it. I'll take it.
One team of Cambodians starts to make a trench about a half-meter wide, one-meter deep, for perhaps six meters. It's hard going. Everybody works. Col. Fox joins in the sifting of soil and rocks. Major David Combs, the team leader, a muscular guy with an oval patch of hair on the top of his shaved head, takes part in the digging. I "like" Combs too, a quiet guy, former enlisted man and ranger. The digging is so hard that they order a second team of diggers from the Cambodian farmer and his wife that Sos Kem and I have developed as sources.
I came without a hat and without water. I feel like I am developing a heat stroke. I plead that I must talk to the Cambodian farmer's wife about a source who is supposed to show up later. The farmer leads Sgt Chuuk and me to his house. A JTF van pulls up. I ask Chuuk to tell him to take me to my hotel, where I'll find a car and return.
I can hardly make it to the shower. I have lunch at the Riverview Restaurant and then ask them to fill a thermos bucket with iced Cokes and water bottles. I return to the site. The team is about to leave in a van, en route by helicopter to a military remains site. Nothing has been found. Which means this: Nothing is there--or maybe something is there, six inches away on either side where the trench has been made. I pass the Cokes to the team, and thank them for their effort. Only Col. Fox refuses.
I call Col. Fox aside and say, "I know you are not interested in excavating the termite hill site which has been identified by a source. Do you mind if I do it?" I seem to have caught Fox by surprise. He says, "No, go ahead." It is not that I think I will find something. It is just that I won't feel satisfied if I leave Cambodia without taking every shot that I can.
I stop by and talk to the farmer's wife, Narine. I arrange for her to have a team do the excavation on Wednesday. When we first met and Sos Kem was talking to her husband and she was taking a submissive position, I noticed her body language, and I told Sos that we should talk to her, not to her husband, who I thought was nice but not a very bright light. Sos did so and sent her his ten-dollar radio by Richard when he left. She immediately wrote him a thank-you note, and our relationship was cemented. Narine has ten years of education and was trained by the U.N. to be an elections observer, now trains other women to do the same. She is a Cambodian feminist.
In the evening I invite the Cambodian officers assigned as liaison to the JTF team for dinner at the Riverview. It is a long dinner, lots of beer, very cheerful, only Richard Linnett and I and them. They understand what I am doing, and one of the officers takes me aside at the end of the dinner. "We don't care if you dig up the whole province," he says. "But don't cause trouble between us and the JTF. We will have to work with them after you leave." "Agreed," I say.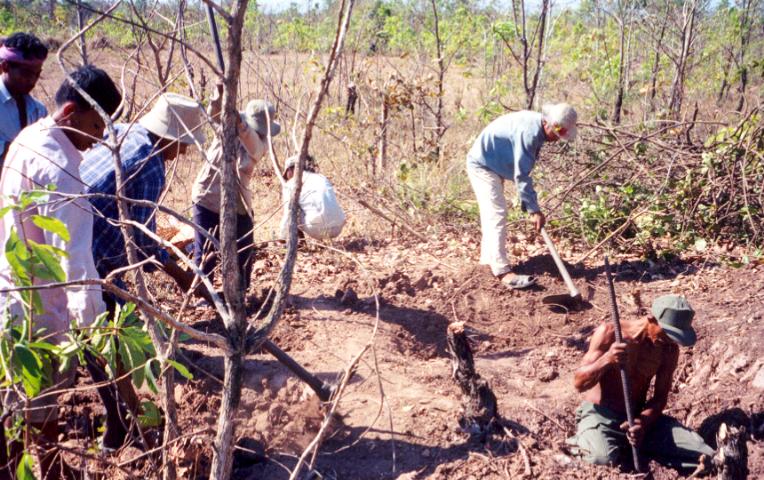 So we decide to do our own excavation. Richard wants to have t-shirts made and call it the Z Task Force. But Maj. Combs humorously tells him that is not correct military terminology, it must be Task Force Z. When I tell them Richard is my personal minesweeper, walking backward in front of me in the fields, taking photos, they get a laugh from that.
This is Narine, 55, my chief of staff for the excavation. She hired the diggers, prepared the food, and kept a gimlet-eye on the workers, including her husband.

When her husband once sat in "my" chair at their house, she said something that caused him to shoot out of it like a rocket.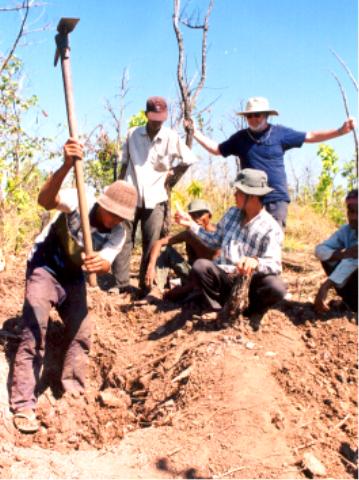 Poun, 19, my translator, is sitting directly in front of me. He's still in high school and says he is lousy in math, science, and physics but good in language and literature. I said, "You sound like a natural journalist to me." So that is what he says he wants to be. I've asked Richard to stay in touch with him, and maybe we can help him.
February 19-Tuesday - In the afternoon I drive out to see Narine, to make sure the operation is on for tomorrow morning. I had asked her to get six diggers. Now I ask for ten. I figure the whole thing will cost me a little over a hundred dollars. Let's splurge.
Richard Linnett arrives on his rented red Honda motorbike, the kind Sean Flynn and Dana Stone were riding when they disappeared. Linnett has turned out to be an asset to what I am trying to do. He gets along well with the Cambodians. I tell him that Narine has agreed to be my chief of staff. He congratulates her. She giggles like a teenager.
The JTF van pulls up. I can see Col. Fox sighing. They are on our heels again, waiting for Ry, our source who is avoiding them. I tell Fox the Cambodian liaison officers don't care if we dig up the province, so long as we don't cause trouble with the Americans. I say, "I told them it is straight with you." He says, "Yes, it is straight."
In the evening, Linnett and I are sitting with some enlisted men from the recovery team. We mention what we are doing, and they soon leave, finished with their meal. Not ten minutes later the Stony Beach team, plus Major Combs and his assistant Greg, arrive and take seats at our table. This doesn't seem like an accident. They are looking for us--or rather, for me.
I say I am pleased that they have accepted me on this mission, and I know it must not be easy for them to have a journalist and outsider intruding in their business.
Tom Munroe, a warrant officer who works as an analyst for Dickie Hites, says, "Oh we like journalists more than lawyers about this much." He holds his thumb and index together with a space of about one-tenth of an inch. The others laugh. To my front are Greg Parmele, Tom Munroe, and Joe Fraley. To my right are Major Combs and the youngest member of the Stony Beach team.
I have my doubts about some lawyers and even some journalists--but I don't go about insulting them to their face, and Munroe has clearly intended this as an insult. He is particularly outspoken in the conversation that ensues. It becomes an argument. I don't tell them what I really think--that they are intimidating the Cambodian sources, that they don't speak Khmer well enough to operate without a native speaker.
I formulate my argument in more general terms. "How long are you guys going to take to wrap up Cambodia?" I ask. "At the rate you are moving, I think you'll be here for at least 20 more years. If you really threw yourself into this job, you could close it out very soon, because the Cambodians are giving you more help than anybody in S.E. Asia." I make it very clear that I think they are not pursuing their job with appropriate vigor and concentrated focus, that they are spending too much time in Hawaii and not enough in Cambodia. The work here calls for a lot of shoe leather and perseverance, not just devoting two or three days to running down leads on one case and then making a hop skip and a jump to another case--and then speeding back to the beaches of Hawaii.
"Why is the Cambodia detachment based in Bangkok, not here?" I ask. "Why is Sgt Chuuk, a Khmer speaker, sitting around Bangkok?"
"It is a logistics hub for the whole S.E. Asia operation," they say.
"Fuck logistics," I say. "You don't need a lieutenant colonel and Chuuk doing that. You can get two sergeants to handle that."
We are getting into areas that neither they nor I really know about--budget considerations, Pentagon allocations. Voices are raised. It is getting out of hand. We both begin to back off.
They tell me, "As far as we are concerned, your mission has been a success, because you have opened sources to us that has led us to all kind of things."
I'm rather shocked by this, although I know it to be true. I am surprised that they would admit it. Still, I'm not ready to back down despite the compliment. I tell them that the American public is fed up with this attitude of "Continue to Investigate," which is the last line of every DIA report and is simply a catchall cover-your-ass. Get on with it and reach some conclusions. Not every case is going to be resolved, but take every case to the end and then ask Ann Mills Griffiths to call the family members in and you explain what you have done.
Major Combs, the team leader, has not said anything during this argument. Suddenly he gets up and says, "Let me get out of the line of fire." He is partially blocking my vision of Joe Fraley, who is opposing me vociferously. Combs takes a seat to my left. Fraley tells me what a hardship it has been for him and his family to take the Phnom Penh assignment. I have had dinner with him and his wife Lisa, I know better. Bullshit, I say, you took the assignment, now do the job, get up here by water taxi like Sos Kem and I have done, costs ten bucks and six hours of your time.
They admit that I have made certain valid points. And I admit that I don't know all the problems they are facing in terms of budget constraints and Pentagon matters. What I don't say, but they know I am leaving unspoken, is that I still don't think they are doing an adequate job. The overall organization of the JTF looks fine. This is a case of the tail wagging the dog. Everything depends upon the Stony Beach guys, and they just aren't up to it. I've always had great respect for enlisted men. But where are the officers involved in the intelligence collection effort? The JTF has got a bunch of former sergeants running their entire show.
For the first time, Major Combs speaks up: "Off the record, I can tell you that changes are going to be made. The new command doesn't necessarily think like the old command."
This can go on all night. I break it off. Tom Munroe comes to me as I am leaving and apologizes for some of the things he has said. We shake hands. I apologize for raising my voice and using an expletive that begins with F. Major Combs also shakes my hand and bids me good night. This is a polite formality.
I realize that when the Stony Beach team arrived in Kratie they didn't like me. But it was nothing personal on their part. Now it is.
February 20-Wednesday - The excavation comes off as scheduled. Among the ten diggers are Ban Poev and the elusive Ry, neither of whom I had requested. They all have a good time. I have prepared water bottles, sliced apples, water melon, and other fruit for a 20-minute break after the first two hours of digging-a little better than the JTF team treated them, working them straight through the noonday heat. We find something that Ban Poev and others claim is highly decomposed bone matter, the type they find when they dig up the graves of their ancestors. I don't know. I show it to the JTF anthropologist when I return to the hotel. He believes it is organic material and what they thought as bone fragments is wood. He says he will put it into their system for final analysis. He seems a decent and earnest worker, and I have no expertise myself on this subject and thus no grounds to argue. I thank him for his time. I will run my own DNA tests in Europe.
February 21-Thursday - The JTF team is leaving, in two waves of helicopter transport. I sit in the hotel lobby talking to Major Combs. He tells me that the Stony Beach team has developed two separate eyewitness sources that place at least seven Caucasians in Kratie City either in 1973 or 1975. "Really?" I say. I am not surprised. Although I turned over all my sources to the Stony Beach team, they have somehow forgot to tell me about this. I wonder what will happen to the information. "Continue to Investigate"? Two of my sources, which the Stony Beach team also interviewed, confirmed that "foreigners" were held in the Toul Sleng-like lycee in Kratie, about two miles from the original camp where I believe the newsmen were held. So foreigners were held in Kratie, probably after the end of the Vietnam War. This is the weight of the evidence. I believe they were newsmen, but they could be military. What is the Pentagon going to do?
I tell Major Combs about the report I did on the probable death of Newsweek reporter Alexander Shimkin in Quang Tri Province, Vietnam, in 1972. I think I had his gravesite fairly well pinpointed. Tom Munroe and Joe Fraley walk into the hotel. They are just minutes away from being lifted out by helicopter. Combs tells them quietly to make a photocopy of my report. Munroe looks at Fraley and asks him if he wants to do it. Fraley says no. So they both go to photocopy it. They return after a few minutes and give me the original. Their demeanor is not one of happy campers.
February 22-Friday - I leave Kratie for Phnom Penh by water taxi, six hours down the Mekong, ten bucks, nice way to get a suntan. I was developing good source information up till the last minute. I wonder if it will ever reach the Stony Beach team.
February 26-Tuesday - I arrive back in Paris.
February 27-Wednesday - I write Ann Mills Griffiths and tell her I will soon send her a report on my trip to Cambodia. She replies quickly, as follows:
Zalin: Glad you're back safely and I really look forward to your detailed account since you write them in an unvarnished way that is very informative. Thanks again, and I hope you're not too disappointed at not having been able to recover the remains of your colleagues. I don't think that this endeavor is the end of it, however. Take care. Ann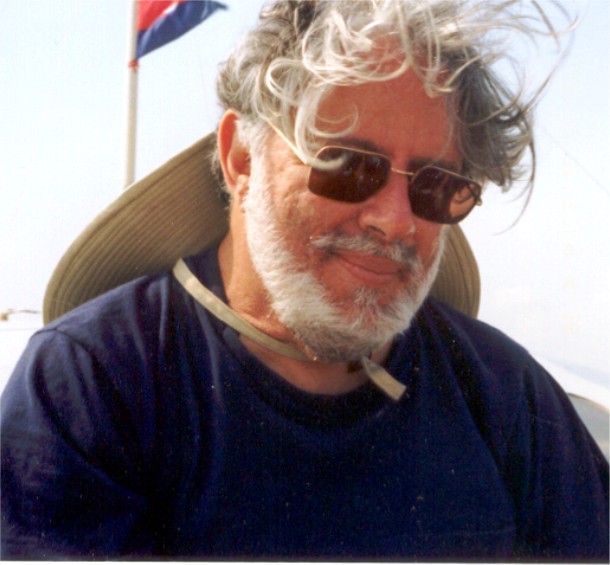 On the Mekong River, February 22, 2002. Leaving Kratie and heading to Phnom Penh and then Paris. Will I go back? I don't want to. But I never say never. (Photo by Richard Linnett)