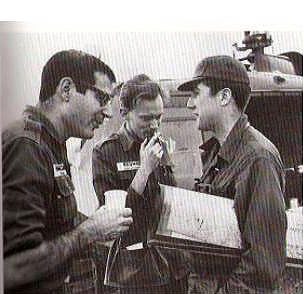 David Halberstam (left), Malcolm Browne, and Neil Sheehan—1963.

In early 1965 An scored another big success.  He learned from the Time bureau chief that the U.S. was sending troops to Vietnam.  He gave Hanoi early warning, which won him another medal.

The Time chief was courting An to work for him. An was still playing hard to get. When An finally agreed to work for Time he fell into a goldmine of intelligence which would be of inestimable value to Hanoi for the rest of the war.

General William Westmoreland, commander of U.S. forces, had the most liberal press policy of probably any general in American history. He tried to woo journalists by being open and candid. He told them classified information, with the understanding, of course, that it was either off-the-record or would be used only for background.

Time magazine of that era was not the faded flower it became.  It was the most powerful media organization in the world. Newsweek was a distant second. The New York Times and the Washington Post shared influence with Time but neither had its global reach. The TV networks were just beginning to expand their news bureaus. On a personal level, Westmoreland truly liked the Time bureau chief (as did I—he hired me), who was one of the best reporters to cover the war, solid and trustworthy.

Shortly after An began working for Time in the summer of 1965, General Westmoreland gave the bureau chief a detailed briefing on how many troops he had asked President Lyndon B. Johnson to send him to fight the war—when they would arrive and where they would be assigned.  His briefing covered every aspect of his force requirements from that moment until mid 1966. Such information might sound prosaic to a civilian.  But to a commander like North Vietnam's General Vo Nguyen Giap it was 24-carat intelligence.

The bureau kept two clipboards side by side with files to be transmitted by teletype to New York.  One clipboard held files of stories to appear in the magazine.  The other clipboard held the confidential files that the bureau chief sent for limited distribution to the magazine's top editors in New York.  The files were based on his briefings by the U.S. Commanding General and the U.S. Ambassador and other high-ranking officials. No matter who the bureau chief was, this procedure for followed throughout the war.

I never saw An read the clipboard that held our files for publication.  I doubt he ever read a file written by me, and I led the bureau in the number of unassisted stories that appeared in the magazine in 1966.  But I saw him countless times reading the confidential files and taking detailed notes. He never took these notes when the bureau chief was in the office.

Whatever Westmoreland or the Ambassador told the bureau chief, it went to Hanoi within a couple of days—from Westy's mouth to Giap's ear. Westmoreland's headquarters always gave us advance notice when a major military operation was scheduled to take place.  A teletype was usually sent to New York informing the editors about the operation and telling them how we intended to cover it.  That information, too, went straight to the Viet Cong. 

By the time the operation took place, the Viet Cong had usually fled. They were lying in ambush at some other unsuspected place.  It was clear that somebody had tipped them off.  Everybody thought it had to be spies in the Vietnamese military. The American military stopped telling the Vietnamese about their operations until the last moment.  But somehow the Viet Cong still learned in advance of the operations.

I had a courteous relationship with An.  It wasn't close. I was never one of his acolytes who sat with him on the Continental Terrace having a drink and marveling at what they heard. An and his friend Vuong were the two most influential legmen. They met every afternoon at Givral's coffee shop, across the street from the Continental, to work out their line which was passed on to other legmen and then to American reporters. 

Actually, Saigon politics wasn't that hard to analyze. The 1963 Diem coup set off a chaotic power struggle between the older generals and the younger officers, which was never entirely resolved but finally tamped down after a cautious general named Nguyen Van Thieu was able to neutralize his more flamboyant rival, Nguyen Cao Ky. Thieu had the support of the U.S. Embassy. 

An had known the generals and other politicians for years.  So his analyses of their endless machinations were usually on the mark. That was his talent. He could place everything in historical context, whereas it was all Greek (or Vietnamese!) to American journalists, stuff they were hearing for the first time—which made An sound to them like a genius.

My break with An was not caused by a journalistic disagreement. It came when I put his secret life as a spy in jeopardy, in a way that could have got him killed. This happened in Cu Chi, a town 18 miles north of Saigon, in April 1970. Thirty-five years later An was still angry when he told his biographer about our trip to Cu Chi, although I don't think he revealed the real truth to author Larry Berman.

"What did he say?" I asked Berman.  "That I was a son of a bitch?"

Berman laughed and said, "Something like that."

I was in Paris in April 1970 when Sean Flynn, a photographer for Time, and Dana Stone, a cameraman for CBS, were captured by the Khmer Rouge in Cambodia.  Time and CBS asked me to return to Indochina to investigate their capture.

When I got to Saigon Time began arranging through President Thieu for a Vietnamese intelligence officer to work with me.  But I was anxious to get started immediately.  I asked An and Vuong to help me before the officer was assigned.  I wanted to drive to Tay Ninh, which was on the Cambodia border about 40 miles north of Saigon, just a few miles from where the journalists disappeared.

Pham Xuan An and Nguyen Hung Vuong told me they would be pleased to help.  We set off in a rental car.

To reach Tay Ninh we had to pass through Cu Chi.  When I saw the large number of refugees who had fled from Cambodia I decided to stop and try to pick up information from them.  An became upset.

"You said we were going to Tay Ninh," he said angrily.

I was surprised.  I had never seen An angry. He was usually unflappable. What was there to be angry about? Vuong said nothing. He didn't appear concerned.

"Oh come on, An," I said.  "This will only take a few minutes."

"But you said we were going to Tay Ninh."

"I did.  But I changed my mind. Let's talk to these refugees."

They joined me as I walked through the crowds of refugees. But An was still visibly upset.  In fact, he looked pale.  I found it inexplicable.  But I decided not to push him further.  I broke off my interview and we continued on to Tay Ninh.  He barely spoke to me for the rest of the day.

Only years later did I understand why.  Cu Chi was the explanation for An's disappearing act, the mystery I had wondered about—where did he go when he suddenly vanished? Though I didn't realize it, I had stumbled on the answer. He went to Cu Chi by bus.

Cu Chi was the headquarters of his Viet Cong Intelligence unit. That was where he helped the VC and North Vietnamese plan their operations. He sometimes spent days at a time with them.

An's headquarters was located in the tunnel network under Cu Chi. It remained a major Viet Cong center for the entire war. Ironically, I'd written the first story about the tunnels of Cu Chi and explored a section with the "Tunnel Rats" until we heard the sound of scurrying feet five meters ahead of us. After the war the tunnels were turned into a tourist attraction.

If any of the VC at Cu Chi had seen An with me they would have assumed I was CIA and he was a double agent, a spy for the Americans. Few journalists spoke Vietnamese but plenty of military intelligence and CIA agents did. It was not unlikely that he would have been killed as a traitor.

After our trip to Cu Chi An grew a mustache before he returned again. He shaved it off when he got back to Saigon. It was that kind of obsessive caution that saved him. With a mustache he wouldn't be recognized as the guy earlier seen with the American. 

He knew I had gone back to Cu Chi with the Vietnamese intelligence officer who was assigned to me by Thieu. While we were there the CIO officer was recognized by a VC he had interrogated—which caused us to make a hasty exit, with the VC running after us, beating on the car.  That incident itself would have convinced the VC that I was an intelligence agent and An was working for the CIA.