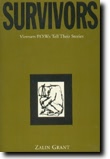 "Nine Americans who fought in Vietnam, were taken prisoner, and somehow survived five agonizing years of captivity tell us exactly what they did, saw, and suffered. I read the book through at one sitting and was near tears. Never for a moment can you doubt its truth.
--Gilbert A. Harrison, former editor, The New Republic
"The best work published thus far on American prisoners of war in Vietnam."
--Publishers Weekly
"SURVIVORS is a document as well as a documentary. Zalin Grant is trying to tell us the truth, not interpret it, and he succeeds in the most hair-raising way."
--The Boston Globe
"SURVIVORS is the tragically moving composite autobiography of physical, mental, and spiritual anguish . . . Highly recommended."
--Choice
"This is a straightforward but powerful book . . ."
--Library Journal