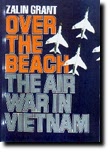 "The jet-jockey competitiveness, the undercurrent of fear, the victories and foul-ups . . . few chronicles have described it so grippingly and with such a ring of accuracy . . . OVER THE BEACH carries tremendous conviction."
--The New York Times Sunday Book Review

"OVER THE BEACH is a sympathetic and penetrating history . . . A gem."
--Library Journal
"A wonderful book--sad and stirring and filled with insight, both human and historical."
St. Louis Post-Dispatch
"Grant puts living flesh on historical bones through exceptionally candid interviews with the pilots...some of the best descriptions to be found anywhere."
Kirkus Reviews
"Although OVER THE BEACH somehow seems to get its arms around all the major issues of the air war in North Vietnam...the story comes together in the character studies of the men who flew."
Adm. James Bond Stockdale, USN (Ret.)
The Wall Street Journal