When Dominique arrived in Panou's village with her husband, Edouard, she was 23-years-old, had a baby girl named Stephanie, and fifty dollars to her name.

"You shouldn't talk about money," says my wife Claude, who is looking over my shoulder as I write this.

"Why not?" I say. "It's a success story. I know that the French don't like to speak about money, but I also know that they like it as much as anybody else."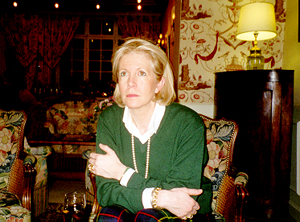 Dominique during a quiet moment at a dinner party.
"It's an old Catholic prejudice for us French," Claude says. "To care openly about money is considered not only vulgar but evil, against God's will. Besides, we've had revolutions where people with money lost their heads. That teaches discretion. We aren't like certain Americans, who can hardly wait to tell us how much they are making."
"Dominique works hard," I say, "and we Americans appreciate hard work. She's very ambitious, and that's also a compliment, as we see it."
"Ambitious?" Claude says. "Not at all, that's not Dominique."

"How would you describe her?"

"Dominique is a nice person, although I dislike using that cliché--nice."

"Then what?"

"Well, Dominique is a very moral person. She's not one who is ready to say that about herself, truly moral people never are. But she is. She loves to help people. When you weren't here and I broke my ankle on the stairs at art school, and then another time when I had a hit-and-run accident, she was the first one I thought to call."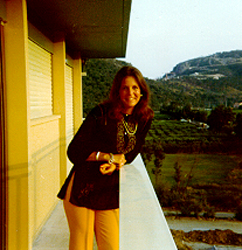 Dominique at 18. She wanted to be an interior designer.
Dominique was the second of five children. Her father was the owner of an insurance company. From age nine to eighteen, she attended a boarding school, run by Catholic nuns. Being away from her family was not a happy time for her. But she was a dutiful daughter and accepted her father's decision that afterward she should go to secretarial school, instead of art school in Paris, as she would have preferred.
"Dominique wanted to be an interior designer," Claude says. "But anything connected with art is considered vague work in France, although artists who succeed are much admired. So it's not surprising that her family wanted her to go to secretarial school, because that is considered a real job."

It was as a secretary working in the central French city of Clermont-Ferrand that Dominique met Edouard at a dinner party.
He was immediately attracted to her outgoing personality. Also, to what he considered her perfect height--1.72m, a little over 5'7''--which was accented by a slim silhouette.

Edouard was soon to graduate from medical school. Dominique's father knew the villages of central France well, since he covered that area for his insurance business, and he suggested that Panou's village would be good place for the couple to start. The village had three thousand inhabitants and only one doctor.

Dominique realized they would need nearly a thousand dollars to get set up in the village with an office/home and the medical equipment Edouard needed. When they opened, they had fifty dollars left to survive the first month. But she was a cheerful optimist. She believed something would turn up to help them.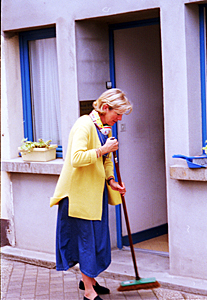 Dominique sweeping outside Edouard's office. She does all the cleaning every day at home and at the office.

And it did. By chance, a young pharmacist arrived in the village at the same time. As outsiders entering an inbred, suspicious community a thousand years old, they quickly became friends. No one is more important to a country doctor than the local pharmacist who can steer patients his way.

"I remember," Claude says, "that Panou sold the young pharmacist a house in the village under the terms of what we call 'viager.'"

"Which means you are betting someone will die sooner than later," I say.

"Oui," Claude admits--reluctantly, as I know from other conversations we've had on the subject. "The buyer makes a deposit on the house--what we call a 'bouquet'--and then pays a certain amount of monthly rent for the rest of the seller's life. When the seller dies, the house automatically becomes the buyer's. And that could be next week or many years. It's a lottery."

"Panou made the deal for the house when he was in his early seventies and then lived to be nearly 88," I say. "He used to joke that when he would get a prescription filled, the pharmacist would look at him closely and say, 'How . . . are . . . you . . . today?' And Panou would smile and say, 'Fine, fine, never felt better.'"

"But it wasn't quite as long as Jeanne Calment, who sold her house the same way to her notary and then lived to be world's oldest person, 122--many years after the notary was dead and his children were having to pay her the rent," Claude says. "Anyway, the pharmacist was a good friend to Edouard and Dominique."

He was indeed. Before their first month in the village was over, Edouard and Dominique had made their thousand dollars.

<!************no para**************>
<!**************************PHOTO 3*****************************>

Edouard and Dominique worked as a close team from the beginning. He was a popular doctor (Panou was a patient) and had the usual bedside manner of the successful generalist who made house calls. But at bottom Edouard was reserved and not inclined to be overly sociable.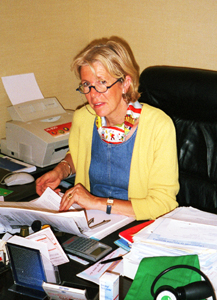 Dominique is also Edouard's secretary, bookkeeper, and general assistant.
Dominique was Edouard's flip side, someone who always had a sunny face and cheerful word for everybody in the village, although one did not think of Dominique as a "smiling" person in the American sense. Frenchwomen adhere to a formal--and some might say, hypocritical--set of social manners, which is never likely to surprise or embarrass. But Frenchwomen seldom seem to fake their emotions. A smile, as with Dominique, is present only if it is authentically felt.

Her secretarial training came in handy because she handled all his bookkeeping and answered his phone and made appointments. If a patient needed transportation, Dominique was there to pick them up in her big black Land Rover.

"To me," Claude says, "Dominique is a woman with the mind of a social worker and accessories by Hermés."
"The wife of a country doctor plays an important role in French medicine," says Odile, a surgeon at a nearby hospital who often operates on Edouard's patients. "Like her husband, she understands the family history of a patient and knows how to respond to the nuances of when something is urgent and when it is not."

To the surprise of some people in the village, Dominique was also the doctor's maid. She could be seen every day sweeping and cleaning the office and the examination rooms, even sweeping the street outside the entrance.

"Dominique comes from a good family and she grew up with maids, Claude says. "That was not something she had to do, it was something she wanted to do. She never complains."

"Do you think her playing the maid has something to do with the fact that she has a finely honed sense of public relations," I say, "and that she is aware of the pitfalls of looking a little too wealthy and superior in an always watchful village?"

Claude regards me for a moment from across the desk. She is eating an apricot. Finally she shakes her head in an indeterminate way. It could mean anything.

Dominique was content. A second child, Grégoire had arrived, and even though there were now four doctors in the village, Edouard's practice was doing well.

"I couldn't imagine living in Paris or a big city as a doctor's wife," Dominique says. "In a small village you can get to know people, to establish a real relationship."

She was made even happier one day when she came upon the stone house of a wine maker. The vigneron's house was two hundred years old and had four separate wine cellars. It needed a lot of work but Dominique was overcome with excitement when she learned the vigneron was ready to sell. She closed the deal for a hundred thousand dollars in two days, without Edouard ever seeing it.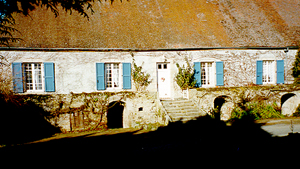 Dominique's dream house. She closed the deal without Edouard seeing it. The doors at bottom lead to the four wine cellars.

And she set out to turn the old wine maker's house into what has become an elegant showpiece for our village. She shifts her furnishings around every six months, always with impeccable taste, changing the look of the entire house.

So Dominique, wife of a country doctor, has wound up as an interior designer, after all--just as she dreamed as a young girl.

"I've had second thoughts about this story," says Claude, bursting into my office.

"I'm telling you, you'd better not write a critical word about Dominique, or we're going to have trouble. Dominique is my close friend."

"Claude," I say, sighing. "I suspect everybody will be able to figure that out."

<!**************************PHOTO 4*****************************> <!**************************PHOTO 5*****************************>
RECIPE THREE

Dominique, as she is the first to admit, does not have much interest in cooking. Unlike many women, she prefers doing housework to spending time in the kitchen. For lunch she usually buys take-out from the delicatessen. In the evenings, she makes the effort for Edouard, who has a magnificent wine cellar, preparing unelaborate dishes such as a roast or fresh fish of the highest quality.

But Dominique appreciates fine food, and she and Edouard are members of a dining club composed of five couples. The club, named "Lucullus," for the Roman consul who was famous for his banquets, meets periodically for a lunch that lasts, in that leisurely French way, for the entire afternoon.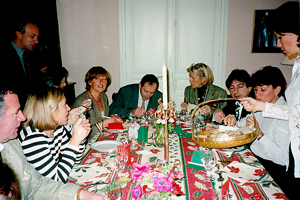 The Lucullus Club beginning a feast. Each of five couples prepares a dish, and they grade each other on how well they do.
Each of the five women is teamed with a man, but never her own husband. She makes one of five dishes and the man selects the wine to go with the course. Who makes what dish is determined by drawing numbers from a hat. Each couple is graded by the other four couples on a scale of one to five as to how well they have done. Then they discuss how to improve the dishes.

"Is everybody honest in the scores they give each other?" I ask Dominique.

"Oh no, not really," Dominique says without hesitation.
When the Lucullus club gathers, the couples start with an apéritif and light canapés such as salmon or caviar. Then the five-course meal begins. At a recent gathering of the club, the five dishes ran like this: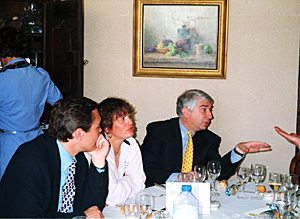 Dominique's husband, Edouard, right. He has a magnificent wine cellar.
1) Feuilletés d'escargots (snails on puff pastry), served with a white Burgundy, Meursault.

2) Calamari (squid) stuffed with crab, served with a white Mâconnais, Pouilly-Fuissé.
3) Depending upon the season, the third dish is either game or poultry. In this case, it was Suprême de poularde aux morilles (chicken breast with morel mushroom sauce), served with a wine (vin jaune) from Jura, Château-Chalon.

4) Emincé de filet de boeuf avec coulis de poivrons rouges (tenderloin of beef thinly sliced with a coulis of sweet red pepper), served with red Bordeaux, Château-Beychevelle.

5) Salade chaude de clémentines et de poires (warm salad of clementines and pears), served with Crémant de champagne.

The recipes for the first four dishes will be included when these Letters are collected in a book, but for the moment we will only do the dessert.

Dominique's Warm Salad of Clementines and Pears

16 medium-sized clementines
2 firm pears
2 small limes
2 1/4 ounces of butter
9 ounces of sugar, plus 2 tablespoons

We begin by peeling the limes with a potato peeler, scraping off the least white possible. Then cut the green lime skin into thin equally-sized julienne strips. (This leaves us with two peeled but whole limes.) Blanch the lime skin strips for one minute in boiling water, then toss them into a strainer and rinse with cold water.

Melt 9 ounces of sugar in a cup of water. Then add the lime strips to this sugar syrup and boil slowly for one hour.

Press the two peeled limes and 8 of the 16 clementines for their juice.

Peel the two pears and cut them into thin slices. Peel the remaining 8 clementines and separate into natural sections.

Put one-fourth of the butter into a skillet, then add the clementine sections and the slices of pear. They are to be sauteed quickly. When they are almost sauteed, add the two tablespoons of sugar and stir until the mixture is just a little golden.

Now pour in the juice from the 8 clementines and the 2 limes. Remove the julienne lime strips from the sugar syrup and also drop them in. Then add small pieces of the remaining butter, without cooking it. After you put the dessert on plates, decorate with leaves of mint. The clementine and pear dessert is ready to serve.

Please raise your champagne glass to Dominique, and say: "Santé!"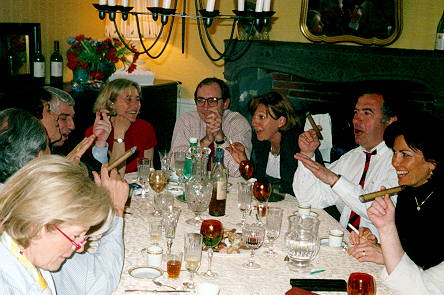 The end of the meal at the Lucullus Club.
Here we see the precise definition of 'joie de vivre.'

<!**************************PHOTO 6***************************************>